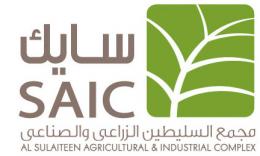 SAIC is grade (A) landscaping contractor, It was established and has been active in Qatar since 1997. SAIC scope of works includes construction and maintenance of first class football fields turf and soft landscaping projects, parks, automatic irrigation networks, landscaping, electromechanical works, external lighting and associated civil works. SAIC is also a specialized division for supply and planting major varieties of trees.
SAIC Flower Production
Since 2002, SIAC has been concentrating on seasonal flower plants production in Modern Greenhouses and Shade net houses with total area of 2.5 ha. From the beginning of our production, we have increased the production year by year and reached more than 6 million plants per year now. We are producing summer and winter seasonal flowers with total varieties of more than 50 different types. In addition to seasonal flowers, we are producing flowering pot plants, Pot vegetables, Herbal plants, Hanging baskets, Garden cubes, flower towers and new concept of wall planting. With our experience and exposure, we have introduced new kinds of flowers to Qatar landscape and some of the flowers are totally new and first time in the region.
SAIC Vegetable Production
SAIC has stared vegetable production from the beginning of 1998 as one of pinner in vegetable farming in Qatar. Our production is a different concept of open cultivation and greenhouse production. We are growing wide range of vegetables of 30 different types mainly Tomato, Egg Plant, Cucumber, Capsicum, Cauliflower, Broccoli, Lettuce, Squash, Cabbage, Beans, Sweet Melon, Herbs and Strawberry.
In last few years, our farm has made a modernization of the production units and increased the area of greenhouse cultivation with an advanced cooling and fertigation system. We also introduced the latest technology of Hydroponic cultivation in modern greenhouses with aiming at using less water for more production. Hydroponic is a modern cultivation method of growing plants using mineral nutrients solution in water without the use of soil and plants used to grow directly on running water or growing medium.
SAIC Major Projects:
SAIC Sport Fields, Landscaping and Irrigation staff accumulated major experiences during their services at following Major Projects:
Construction for projects & parks for Public Works Authority (Ashghal), Ministry of Municipal & Urban Planning (MMUP) which include Al Kheesah Celebration Hall & Park, Umm Salal Park etc.
Construction, Upgrading & Maintenance of Landscaping & Irrigation Works for Aspire Logistics in Aspire Zone and Aspire Park.
Construction, Upgrading& Maintenance of Landscaping & Irrigation Works for QOC 1st and 2nd Division Football Clubs, Federations and Car Racing.
Construction, Upgrading & Maintenance of Landscaping & Irrigation Works for Qatar Foundation Education City Landscaping & Irrigation works.
SAIC Major Clients:
Aspire Logistics
Private Engineering Office
Qatar Olympic Committee(QOC)
Qatar Foundation
Ministry of Municipal Affairs & Urban Planning
Public Works Authority (Ashghal)
Qatar National Hotel Company
Qatar Museum Authority
Main Civil Contractor
Contact
Farm Location
Farm No 301, umm salal ali, zone 71, Doha Qatar Tel: +974 40320119 / 40320109, Fax: +974 40320132, P.O.Box: 8588, Doha, Qatar.
E-mail: info@saic.com.qa, Website: www.saic.com.qa
Office Location
Office No: Office No.301 & 302, Second floor, GRIDCO III building, C Ring Road, Rawadat Al khail Street no. 230, Zone no. 24 P.O.Box 8588, Tel: +974 44434990 Fax: +974 4443 4603, Doha – Qatar.
E-mail: info@saic.com.qa, Website: www.saic.com.qa
Gallery